Brother Printer Default Password, WiFi Password and How to Reset Brother Printer
Brother Printer Default Password, WiFi Password and How to Reset Brother Printer
Learn What is Brother Printer Default Password, WiFi Password and How to Reset Brother Printer. Here in this page, you can learn about Brother Printer Default Password, WiFi Password and How to Reset Brother Printer.

Melina Marchetta
Wednesday, 23 October, 2019
Reset Wi-Fi password, change Brother Printer default password correctly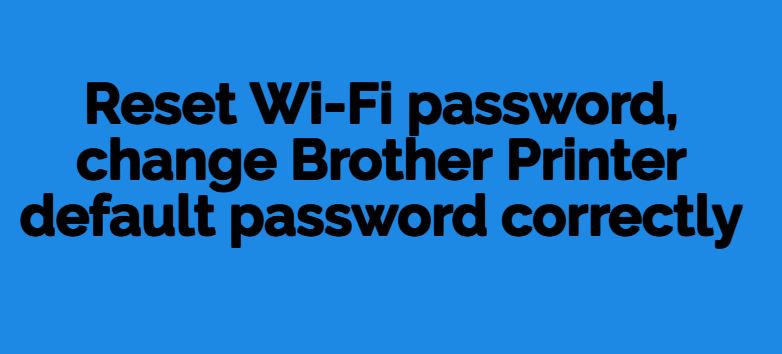 All the Brother Printer models available in the market are featured with a default password and a Wi-Fi password. This tutorial will teach you the techniques of resetting the Wi-Fi password and changing the default password. For resetting your Brother Printer Wi-Fi password, you need to have the password and network name for your wireless network. These things are available on the back of your modem. Start following the listed steps after finding out Brother Printer Wi-Fi password and network name for your wireless network.
Reset the Wi-Fi password in Brother Printer
1. Open the CONTROL PANEL and press the MENU icon
2. Select SETTINGS or SPANNER & SCREWDRIVER icon if you have a touch screen
3. Then you need to select ALL SETTINGS
4. Scroll downwards and find NETWORK USING THE ARROW KEYS; click on OK
5. Use the arrow keys, scroll downwards, and find the NETWORK RESET
6. Now you are suggested to press the 1 key
7. Confirm a reboot again after you have pressed the 1 key
8. The reboot will start then
9. Your printing machine will ask you to SETUP WI-FI once the reboot is completed
10. Launch the SETUP WIZARD by pressing the OK button three times
11. It may take some time in searching
12. Now you can choose your Wi-Fi network
13. Select No if you are prompted to USE WPS
14. Enter your new Wi-Fi password and press OK
15. Here you will have to press the 1 key to apply the changed settings
16. The CONNECTION OK report will appear soon
Brother Printer default password
Initpass is the default login password to manage Brother Printer machine settings. It is required to be changed for protecting your printing machine from unauthorized access and allowing the features such as BRAdmin Light/BRAdmin Professional, Web-Based Management, and Remote Setup (via a network only) to work correctly. So, we are firmly committed to helping you in changing your Brother Printer default password today.
Change Brother Printer default password
1. Http://machine's IP address
2. Launch your preferred web browser and type this address in its address bar
3. However, machine's IP address is the IP address (e.g. http://192.168.1.2) of the print server name
4. Type initpass as the default login password
5. Click on the Administrator tab
6. Click on the Login Password if you are not finding the Administrator tab
7. Type the password you want to use in the ENTER NEW PASSWORD field
8. You are now recommended to note down the password and keep it in a secure place
9. Retype the new password in the CONFIRM NEW PASSWORD field
10. Click on Submit
Reset Brother Printer
To help the millions of printing machine users, Brother Industries has developed a team of printing machine engineers. These engineers were recruited after a meticulous analysis of their skills, work experience, and presentation techniques. They are connecting the users via a helpline number which is available on the official website. Dial this helpline number and ask how to reset Brother Printer. The team of highly skilled printing machine engineers will assist you in the best possible way they can do it. Their dedication and commitment to work will impress you for sure.
#
5
Likes
1
Answers